This week the weather in London has been typically changeable, which prompted me to ask, what exactly happens to ecommerce search habits when the temperature goes up and down? Well, thanks to Google Trends, we can see just that.

It may seem like common sense to know that boots are popular in the Winter, and sandals in the Summer, but connecting these statements with some solid data (and fun charts) can be more insightful to retailers in demonstrating how the weather plays a role in shopping behaviour. So what can we learn from current weather changes, and how can we use technology to get around Mother Nature?

Each year, clothing retailers wonder about how the weather will affect high street sales, and each year they place the same summer and winter collections up in stores. On the one hand, this is just how the fashion seasons are managed, which is arbitrary to what's going on outside. On the other, it's a problem with an increasingly changing climate that we can no longer ignore, and that is becoming more disruptive each year. When it becomes bad for business, I think it's time to make some changes.

While 2012 was seen as one of the wettest years in UK history with sales both on and offline affected negatively, 2013 has also posed some weather-related issues for UK stores. This year, the coldest March in 50 years meant that high street retailers saw a significant dip in sales of clothing and footwear, while food shopping went up for the Easter season. The opposite was true for the summer season, when surprisingly good weather prompted more people out onto the high street.


Here's what the annual temperature differences are for London, which are slightly higher than the national average, but demonstrate the general temperature patterns for the UK: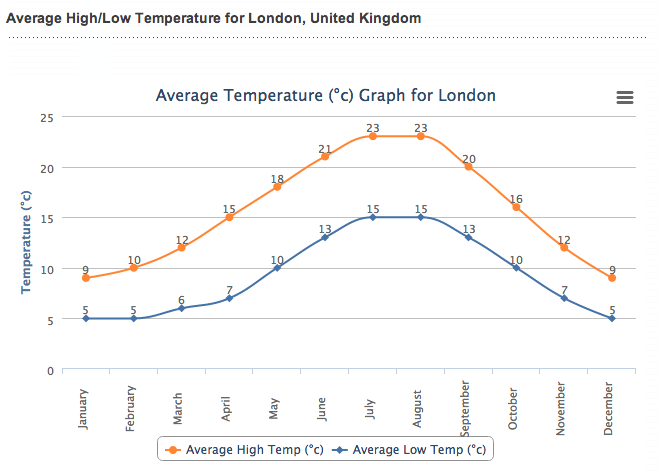 Average of London's High and Low Temperatures.

How does this affect high street retailers?
The weather patterns above mirror spikes and declines in when people buy on the high street. March saw a significant dip in non-food retail on the high street, with year-on-year retail sales volume down 2.6%, and the amount spent on textile, clothing and footwear went down by 3.8% year-on-year from March 2012. This is directly related to the extremely cold March we had, when footfall dropped significantly. On the other hand, July's hot weather prompted a 3% increase in sales volume for retail - mainly from food - but also from garden furniture, barbeques, summer clothing and alcohol.
How is online search affected?
So now that we can see a correlation between the temperature and high street retail sales, the question remains - how does the weather affect online shopping?
This past summer, Channel 4 played a program called Human Swarm, in which presenter Jimmy Doherty examined how our shopping and lifestyle habits change according to patterns in the weather and environment. The point that Doherty makes is that our individual habits and lifestyle fluctuations, taken in aggregate, form a general pattern of behaviour that can be tracked with big data, and used to document trends, for instance, in shopping. He mentions Bravissimo's sale patterns in particular, which saw a huge increase in sales through its Google Adwords campaigns after it built weatherFIT. WeatherFIT's software determines which pay-per-click campaigns visitors see according to weather patterns. So if it's snowing, you won't be shown adverts of swimwear, etc. Bravissimo stated a staggering 600% increase in swimwear sales whenever it's sunny, regardless of time of year, because of weatherFIT. That's big, even without the data.
Here's what a search for 'jackets, boots, shorts and umbrellas in the UK' will bring up in Google Trends from January to October 2013:
Google Trends shows how searches for popular summer and winter items changed during 2013.
As you can see above, cold weather items such as boots and jackets saw a high rate of search in the beginning of the year, a downward turn from May to August, and another upswing in September and October. The second coldest March shopping season and a delayed but long summer, had a direct correlation with clothing and footwear searches. On the opposite side, hot weather items such as shorts and sandals only have a significant increase in the peak summer months, and specifically this year in July. Now it's not possible in this post to determine what percentage of these searches accounted for sales, or webrooming, but it does show general patterns of interest and intent to purchase.
Interestingly, umbrellas stay relatively moderate throughout the year except for upward spikes in October and November. This is perhaps because average rainfall is pretty high all year round in the UK, as you can see from this chart of London's yearly rainfall below:
Average yearly rainfall in London, UK.
Takeaway
So what can we conclude from all this data? Well to start, high streets and online shopping are both affected, albeit in different ways, by UK weather. When the weather is hot, high streets do well and online shopping dips. When the weather is cold, online searches go up and high streets do poorly. But when looking at specifics of search, we can see that online shopping has changing patterns according to weather as well. This is something that all retailers in the UK, both on and offline, will have to consider when building campaigns, organizing merchandise, and presenting ads to customers. With the idea behind software like weatherFIT, retailers can come closer to gauging how people behave as a group, and adjust their offerings accordingly.