I have a confession. Despite the fact I am 27-years-old, I still get really excited about my birthday. Not because I am one year older (hello mortgage), but because it's comforting to know that, at least once a year, those who matter the most will get in touch to celebrate the fact I was born, and mark the occasion with cake and cards (and hats…).
But it's not only loved ones who get in touch—increasingly, certain retailers do too.
And yet, while birthday emails are a growing phenomenon, a surprising number of brands still don't send them—even those that ask for your date of birth during the sign-up process.
As Ometria turns four years old this week, we looked back at birthday emails we've received over the past year to come up with a list of good examples. The final list can be split into three categories: birthday emails including amazing gifs, birthday emails with an awesome concept or copy and birthday emails that have been personalised.
N.b. Many of these emails were sent to recipients that had not yet engaged with the brand, making it difficult for them to be personalised. Consequently, we've included an "Idea 🎈" section for each, listing the ways the email could be personalised were the data available.

Birthday GIFS
Nobody does "chic" quite like Chanel.
Keeping things sophisticated, the French fashion legend opts for a pretty, colourful gif accompanied by the short and sweet copy: "Chanel wishes you a wonderful birthday" in this automated birthday email.
Whilst the message definitely makes a strong impression (as many brands aren't yet even sending anniversary emails), the email would have seemed even more special if it had incorporated the recipient's name.
Idea 🎈 Luxury brands tend to steer clear of discounts, but there are other ways they can use data to treat their most loyal customers in a bespoke way. For example, sending a handwritten card and gift in the post, or offering exclusive access to a one-off event.
This gif from fashion and lifestyle brand JOY celebrates one of the best things about birthdays: cake. By including the message "Happy birthday love from Joy" underneath the gif, the brand manages to reinforce the idea that it is "treating" the recipient on their birthday. Below is the email in its entirety: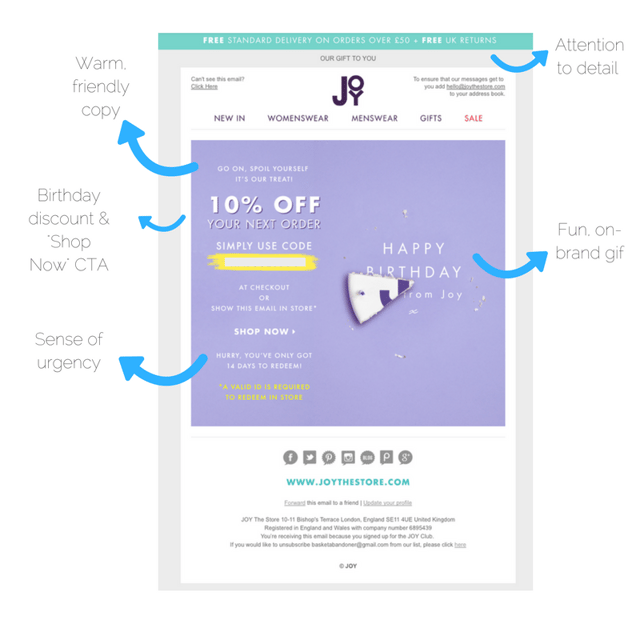 The copy is informal and warm, addressing a recipient like a close friend; for example: "Go on, spoil yourself. It's our treat".
Just like the majority of the emails in this post, JOY includes a birthday discount (10% off). However, unlike other examples, the brand manages to create a sense of urgency by informing a recipient to "hurry" as they only have two weeks to redeem the discount.
Idea 🎈If you have a good idea of what your customers like or dislike, try including dynamic product recommendations in your birthday emails to give recipients some inspiration on what they could spend their discount on.
You can learn all about the different product recommendations available to retailers here.
With its mint green logo, dreamy name and quirky voice, Wanderlust & Co is a brand that likes to have fun and enjoy life. It also doesn't take itself too seriously. This birthday email couldn't be more on brand.
The pastel colour palette, confetti-filled gif and laid back copy all make it distinctly "Wanderlust". The sheer effort that appears to have gone into creating the email (popping a balloon etc) is likely to make a recipient smile - even if the template was, in reality, very easy to make.
Idea 🎈Use dynamic content to tailor your copy and/or CTAs according to any customer information available, such as: name, age or location. For example: "Happy 29th birthday!" "Stop by our Sydney store to check out our latest arrivals" or "Get shopping, Hannah!"
If this email was a physical card, we'd make sure it was always on display (even after our birthday).
Why? It looks good! As well as the oversized glittery gif showing off its £10 discount, the border of gold stars - spilling onto the body of the email, making it appear more three-dimensional - gives it a glamorous edge that's likely to appeal to someone on their birthday.
Idea 🎈 Tailor each recipient's birthday discount according to their lifetime value. For example, if you're sending an email to a loyal customer who shops with you on a regular basis, treat them to a slightly higher discount. Likewise, if you're sending a birthday email to a lead who has not yet used their welcome discount, allude to this in your birthday email.
With the alternative subject line "HBD", Hollister's birthday email gives itself a good chance of standing out in an overcrowded inbox and getting opened.
Going with the slightly left-of-field headline "Candles on cakes are overrated", followed by a gif of a flashing surfboard and the words "but surfing new styles to wear on your birthday isn't", this email is carefully crafted to appeal to the brand's demographic - particularly those a fan of the great outdoors.
Idea 🎈If you know the content your recipient is most likely to want to see (either as a result of their browsing habits or the information they filled out in a preference centre), factor this in to your birthday email. For example, instead of having a CTA to "guys" or "girls", you could have a link to "ladies party-wear".
CONCEPT & COPY
This email from New York City-based online monthly subscription service Birchbox is certainly bursting with energy.
The puntastic, lively copy and birthday themed CTA manage to create the level of excitement every recipient wants to see on their birthday.
The "best sellers" product recommendations also get a massive tick, and the subtle but clever condition that you have to spend at least £30 to use the promo code is an interesting way to boost the campaign's overall revenue potential.
Idea 🎈 Using a personalised product recommendation engine, you can tailor both your incentive and your recommendations according to your recipient's spending habits and taste profile. This is likely to increase the chances of your email converting, or just bringing about a "click".
River Island's "early" birthday email is a genius idea; sent just before Christmas, this seasonal message will have anyone born in winter feel extra special.

The best thing about the actual birthday email is obviously the dynamic content blocks showing "celebrity birthdays this month". By choosing young and fashionable style icons, this free content is bound to go down well with any River Island shopper. Using the recipient's name in the body of the email also wins brownie points.
Idea 🎈If a customer regularly engages with your content (for example, your blog), include some special birthday ideas in your birthday email. For example: "5 spots in London to celebrate your birthday".
Banana Republic's birthday email had us at subject line. Who can resist opening an email entitled: "Your birthday gift is inside!".
Once opened, a recipient is not disappointed - met with a generous discount smack bang in the middle of the template.
Under closer examination, the quirky play on words with "BRthday" manages to make this birthday campaign different to any other brand's, and - like Evans - the white and gold colour scheme and copious amounts of glitter are destined to please.
Idea 🎈As mentioned earlier on in this post, it's worth personalising your birthday incentive according to what a customer is most likely to appreciate. For example, if you have a customer that regularly pays extra for next-day delivery, they might appreciate free delivery for a week opposed to a cheeky discount.
Similar to Banana Republic's "Your birthday gift is inside!", Oasis also piques a recipient's interest with the subject line "Your birthday treat awaits…".
Once the email has been opened, it turns out the "treat" is both a birthday cake (albeit a non-edible one, of course) and a 10% off discount.
Aside from the cake theme, what really makes this email work is its tone of voice. From "Go on, have another slice" to singing off with a kiss ("Oasis x"), this email speaks directly to a recipient and projects the sort of warmth and kindness you'd get in an actual birthday card.
Idea 🎈Using past purchase history, cross-promote any products a customer has recently bought - again, this is a good way to help a recipient choose what to splash their discount on.
Iconic sportswear brand Adidas has a reputation for sending great birthday emails (you can check out one example here).
Perhaps because the brand knows less about this recipient, we didn't see as much personalisation in this version, however what it lacked in bespoke content it made up for in copy and design.
The super-cool, well-designed header is true to Adidas's traditional brand colours (black and white), as it the entire email template. The copy of the email goes out of its way to make the recipient feel really special on their birthday - this is most noticeable in the "for you" after the "15% off" discount above the CTA.
This email from M&Co was our favourite birthday email, just for its sheer personalisation.
The brand uses the recipient's name in both the subject line and body of the email, making the overall message seem more genuine and less automated.
We love how the email provides the option for birthday shoppers to use the voucher offline, helpfully including a store finder button.
Conclusion
All of the above emails made us feel special, which is ironic as a birthday email is just a triggered email - sent automatically to a recipient on the DOB they submitted during the signup process (or later on, if your brand has a 'personal info' section for subscribers on site).
Technically, there is nothing truly sentimental about them, and yet they still manage to communicate to a customer how much a brand cares. Even if a recipient knows it's an automated message, it doesn't matter because it's still clever, it's still fun and they still get a nice discount!
... And for more inspiration, check out our Pinterest board 🌟