Ok, I have a minor confession to make. I am writing to you at the moment from my office desk located in the picturesque heart of London but I'm originally a New Yorker, straight from the heart of Brooklyn.
Having spent the last two years in the UK, I've been able to absorb a healthy slice of the goods, services, brands and customer experiences of British commerce. And being a confessed fashionista who is particularly interested in absorbing as much British culture as possible, I've spent a lot of time browsing brands, different ways of shopping, the high street culture and of course, how British ecommerce differs from back home.
From choosing bedroom furniture and shopping on the high street to buying groceries online, there are a lot of things that translate seamlessly from the States to the UK.
What I had not anticipated was that as much as ecommerce shopping is becoming a unifying factor for both American and British consumers, etailers across these countries don't always see eye to eye when it comes to one thing - Customer Service!
Despite the UK punching way above its weight in terms of its ecommerce growth relative to its online population, customer service is still a major factor that goes unrecognised in its ability to increase both conversions and brand loyalty. And unlike the much larger population of online consumers in the US, the UK's smaller online population means that impeccable customer service is the key to scaling up further.
Anyone who's travelled between the US and UK knows that tipping culture divides us into those who do and those who don't. The higher minimum wage in Britain explains the lack of tips, but not the lack of customer service. The result is that British customer service suffers, because a company's employees don't have the incentive to create well-rounded and satisfying shopping experiences through customer service. And don't get me wrong, this isn't just about waiters bringing you mints at the end of your meal. Generally-speaking, American fashion brands encourage their in-store employees to offer advice, help shoppers find what they need etc, to a greater extent than those in the UK.
When this translates to an online experience - with its limited opportunities to interact directly with consumers - the US has a few things up its sleeve that can be useful for ecommerce retailers here in the UK.
Now this isn't to say that Brits should completely Americanise their ecommerce culture - indeed they should make it their own instead. The larger population (316 million in US vs 63 million in UK for July 2013) and higher ecommerce consumer penetration in America can help other companies around the world learn from both its successes and failures. This allows British ecommerce retailers to circumvent the need to explore these areas individually, and at the same time build out a culture of their own.
Here's a list of 5 Customer Service features that American etailers have gotten right:
1) Live Chat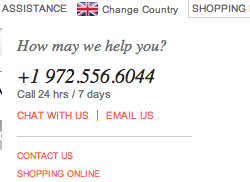 This feature is important for customers who are having particular difficulties, or who would like to talk to someone quickly rather than calling an expensive phone number and risking being on hold for 15 min. (I admit, I choose this option where available over calling every time). Live chat is a great way to gain respect from customers as well because even if they don't use the service, it will comfort them to know it's there just in case!
2)

Prominently Displayed Telephone Number
This should be a no-brainer for every ecommerce retailer. Equally important is that your number shouldn't cost anything to call, especially for mobile-users. Notice here that Blue Nile places their contact number directly above their logo and mentions next to it that it is a free phone service. (For Brits, unfortunately this is an option that has been promised for early 2013, but is not here yet so start lobbying OFCOM to hurry up and implement it!)
3) Coupons
The Gap offers different coupon codes and displays them prominently on their homepage and checkout pages to make sure visitors take advantage of them, no matter what their spend.
Coupons offer incentives for future purchase, and seeing as Brits are a small population of healthy spenders, ensuring company loyalty is essential to scaling your ecommerce company within UK borders.
4) Uniform Call Centre Service
Monitor your Call Centre regularly to make sure they are guiding customers according to your company's culture and needs. This is VERY IMPORTANT, as the last thing you want as an etailer is a call centre representative talking to an unsatisfied customer and not being able to answer their questions correctly, or giving misguided information. I remember being near tears when I first set up my internet connection in the UK, and had different internet companies on the phone, giving me wildly different product options than their websites displayed.
5) Clear Delivery Options
Crate&Barrel is an amazing home goods store in the US, and their website does an excellent job of displaying delivery options that are responsive to geography, currency, etc. to make shipping as easy as possible for their international customer base.
British etailers should all have impeccable shipping policies, as they have the upper hand in this area with the UK's relatively small island geography. "Geographically small and with a comprehensive, modern infrastructure Britain is nigh on perfectly designed to cope with retailers delivering products. The U.K. measures just over 151,000 square miles, meaning next-day delivery is not just possible but commonplace, so consumers can almost replicate the immediacy of shopping offline, in-store". Although this practice is becoming commonplace for most British ecommerce retailers, there is still a gap to cross to make this a universal feature across industries.
These simple features will ensure that your customers have a seamless and satisfying experience shopping on your website! Next week I will go through 5 customer service features that American ecommerce companies have misused, or turned into a customer's worst nightmare. I call it, "Ecommerce Customer Service Worst Practice Lessons".
To learn more about how to optimise your website and create the best user-centered experiece, read this blog post on Best Ecommerce Checkout Practices: What Customers Want Today.