If you're determined to enhance your ecommerce marketing strategy this year, but don't know where to begin, start with a few smaller experiments first.
Listed below are five relatively easy-to-implement hacks for making your marketing campaigns more relevant and data-driven —most of which don't require many additional creative resources.
To figure out which work best for your brand, underneath each point we've included information on how to measure their success.
1) Start going cross-channel by retargeting newsletter non-openers on social
Not everyone diligently reads every email in their inbox—even from brands they love—so retargeting newsletter non-openers on social is a good tactic for ensuring your key marketing messages get seen. It's also a solid first step into the world of cross-channel marketing.
Take young adults, for example. In a survey we carried out last year, around a quarter of those aged between 18-24 cited Facebook as their favourite channel to be marketed to on.
Enter Facebook and Instagram custom audiences: a tried and tested way to retarget those who've shown an interest in your brand but aren't actually engaging. If you're unfamiliar with custom audiences, it basically involves targeting a set list of your subscribers on social, via their email address. This can either be done by manual upload, or automated using a tool like Ometria.
For key promotional messages in your 2017/2018 calendar, consider targeting those who don't open or click emails using Facebook custom audiences instead. These ads could include the same messages and visuals as the email, or tweaked for a Facebook or Instagram audience.
(Not-so-subtle plug: Ometria's campaign builder enables you to send a newsletter and automatically target non-openers on social within a single campaign screen - to find out more, just click here).
Metric: One way to measure the success of your custom audiences is to look at engagement with the ads (so things like number of clicks each ad receives). However, bear in mind clicks might not always be the best indicator of a successful campaign - another key metric to look at is uplift in revenue - which can be achieved through A/B testing (something we'll be writing more about in the coming month).
2) Get creative with social ad formats
Once you've made the decision to start retargeting/targeting consumers on social, the next step is to think about actually making an ad. Lucky for ecommerce marketers, social networks are now investing more time and money in commerce than ever, with many big ones - such as Instagram - making social shopping a thing this year.
Facebook offers a plethora of useful tools when it comes to creating ads, such as its Ads Manager and Power Editor, enabling marketers to tailor the presentation of an ad to its overall message and purpose.
Link adverts (which work across Facebook, Instagram and Audience Network) are particularly useful if you're keen to promote a specific call-to-action (CTA); current CTAs include 'Shop Now', 'Learn More', Sign Up', 'Book Now' and 'Download'.
Facebook also seems to have introduced a new 'Tap for details' feature, spotted on a recent Olive clothing ad.
In terms of format, marketers can now choose from a growing number of fun options (as well as traditional single photo/video ads), such as:
Carousel: 2-10 scrollable images or videos in one ad. Can be used to: display multiple products, show different features of one product, tell a brand's story or demonstrate how a business/process works.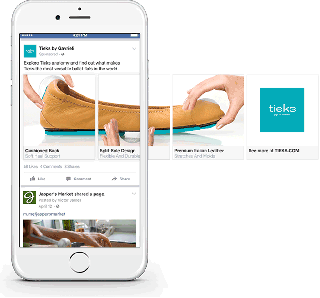 Slideshow: 'Lightweight' video ads that are easy to create and known to work across different internet connectivity speeds.
Canvas: Highly flexible/customisable format combining images and videos to tell a brand's story.
Another social network expanding its advertising offering to ecommerce marketers is Pinterest. The San Francisco based company offers Promoted Pins (basically sponsored/paid for pins) to all businesses in the US, CA and UK.
One big brand that has managed to boost awareness and 'purchase intent' using Pinterest's 'Cinematic Pins' (motion-based Promoted Pins) is L'Oreal Paris.
As Amy Whang, vice president of cosmetics at L'Oreal, said of Cinematic Pins: "The engaging format, combined with the earned impressions we saw even after the promotion ended enabled us to increase brand awareness and purchase intent beyond our expectations."
Reading list
The above are just a few examples of how social networks are making it easier for retailers to sell via different platforms. You can keep an eye on the latest social advertising developments by following the blogs listed below:
Metric: Ditto metric in point above. Facebook Power Editor also enables you to report and on and manage your ads to measure the success of each one.
3) Level-up your triggered emails using segmentation
Another useful experiment to try this year (if you haven't already) is to alter how you treat individual customers based on their profile and/or segment.
Some simple examples of this include:
Withdrawing discounts/offers unless a customer is at a particular stage in the lifecycle journey. For example, including an offer or incentive in cart or browse abandonment emails, but only for customers who have lapsed or who are at risk of lapsing.
Not sending cart or browse abandonment emails to your elite VIP customers, who you know will come back and shop anyway.
Metric: Offering rewards to your best customers should encourage loyalty, and therefore lead to a boost in revenue in the long-term.
Take note: Not sending cart and/or browse abandonment emails to VIP customers can be difficult to measure; you have to make sure that results are statistically significant, as these campaigns drive significant revenue for any retailer.
4) Optimise send time according to geographical location
If you sell internationally, it's likely that your customers will be opening your emails in different time zones, which is why - if you're sending newsletters to everyone in one go - you may be experiencing a high open-rate in certain parts of the globe, but a low rate in others.
To make sure your messages arrive at the time you want them to, invest in 'send time management' - a feature enabling you to dictate exactly when you'd like an email to turn up in someone's inbox (something we offer here at Ometria). According to a recent Google report, late morning is the peak time for using email apps (Yahoo mail, Gmail etc), so this could be the time you want to send your key messages.
When it comes to optimising send time, having customer/contact locale data is important. Most providers have local time sending, however, not many have the ability to determine someone's location based on IP and last billing / shipping address.
Metric: By optimising the time you send subscribers your newsletter, you should notice a spike in your brand's open-rate and engagement quite quickly.
5) Go cross-channel with your automated campaigns
If your brand currently only welcomes new subscribers with a series of emails, it's worth trying out a more cross-channel approach.
Going back to the first point in this blog post, this can be achieved by targeting subscribers via their social feeds using social custom audiences. For example, to prompt that all-important first purchase, you could create a link ad targeting new subscribers encouraging them to 'Shop now', and check out your latest or top products.
For these ads, tweaking the copy to welcome new subscribers and convey brand values is a good idea.
Metric: A good way of telling if your efforts have paid off is by looking at the average time it takes a subscriber (or lead) to become a first-time customer (we call this lead activation rate). More on optimising your welcome series here.
Data driven marketing doesn't have to be difficult
The five tactics listed above have been chosen by us because they are easy to implement and won't eat into your budget or time. So, in the immortal words of The Doors…