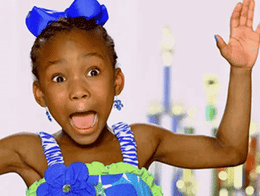 What an interesting week it's been. An (unlucky) lady gave birth to a titanic 15lb baby in India, a Beijing company unveiled a "straddling bus" and a UK study quantified Twitter's misogyny problem.
But enough of the "real" world, what's grabbing the headlines in our ecommerce world?
Well, apart from Ometria's brand new Consumer Census, this week has been a big week for European ecommerce, AliExpress in the UK and Twitter.
A much-needed bank holiday looms and we've got that special Friday/long weekend feeling (see GIF for current mood and also our general response to big baby story).
So, before the working day is over and you skip towards the weekend into a traditional bank holiday downpour, cast an eye over what is shaping the industry we all call home.
Tweet us your favourite stories @OmetriaData
1) Twitter unveils "big changes" to boost engagement
Twitter is in the headlines for its latest launch of "big changes" (again) that will be available "in the coming weeks", as the struggling social tool attemps to boost its commercial offering.
What's changing? Twitter is to simplify Tweets, including what counts toward your 140 characters (so for instance, @names in replies and media attachments like photos, GIFs, videos, and polls will no longer "use up" valuable characters.)
Ecommerce marketers should take note of;
Replies: @names will no longer count toward the 140-character count. More room for marvelously witty copy!
Media attachments: when you add attachments like photos, GIFs, videos, polls, or quote tweets, that media will no longer count as characters within your Tweet.
Retweet and quote tweet yourself: narcissists rejoice! You will be able to retweet your own tweets, so when you want to share a new angle or feel like a really good one went (unjustly) unnoticed - hit retweet.
2) EU unveils plans to boost single digital market
The European Commission is taking action to boost ecommerce by addressing three main issues: geo-blocking, parcel delivery and consumer trust.
Geo-blocking
The Commission's proposals are aimed at ensuring consumers are not discriminated against in terms of access to prices, sales or payment conditions (unless justified) in order to cultivate a legitimate single market.
Cross-border delivery more affordable
The proposals include plans to increase price transparency and regulatory oversight of cross-border parcel delivery services so that consumers and retailers can benefit from affordable deliveries and convenient return. "The regulation will foster competition by introducing greater price transparency," say the EU bigwigs (but is not proposing a cap on delivery prices).
Boost trust
The proposed revision of the Consumer Protection Cooperation Regulation will give more powers to national authorities to better enforce consumer rights, such as immediately taking down scam-sites, boosting checks for responsible traders and checks on whether sites are geo-blocking consumers.
Here's a video explaining the new proposal ft. cheerful backing music.
Source: European Commission
3) UK consumers remain loyal to biggest retailers
UK shoppers remain loyal to the biggest general retailers, according to a SimilarWeb study of the biggest players in British ecommerce.
Alibaba's AliExpress took a surprise fourth position, while Amazon remained on top, with 331m British visits per month across all of its sites.
Ebay came in second spot, followed by Argos, with M&S and AliExpress sharing fourth position.
The top ten general merchandise websites attract nearly two-thirds of all online visits from UK shoppers, and overall traffic for general merchandise sites is up 2% on a year ago.
Furthermore, online retail sales were 9.3% higher than a year ago in April, according to official statistics.
Source: Telegraph